Get ready to ride this weekend, as we bring you nine amazing cycling events worthy of your attention!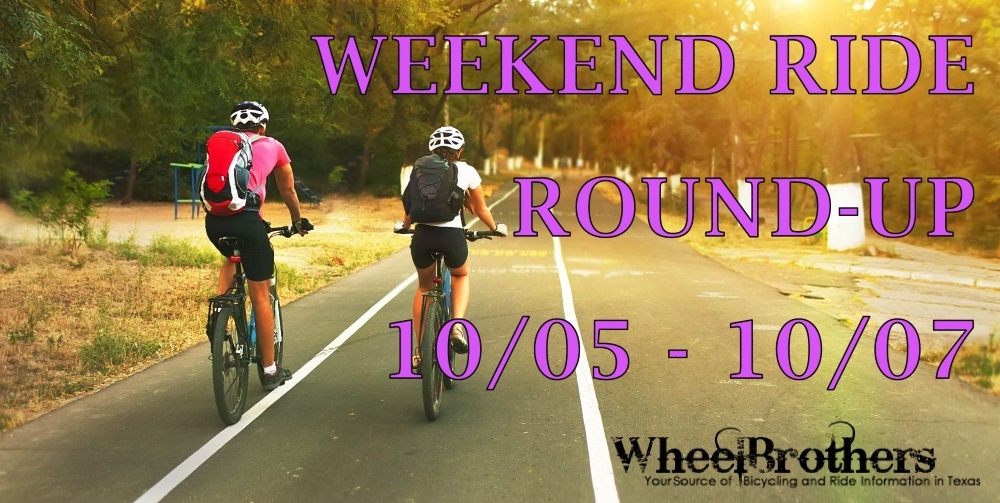 Saturday, October 6th:
Gear Up to End Hunger – Fort Worth, TX
Gear Up to End Hunger is more than just a bike ride. It's a movement to make a difference in the lives of hungry North Texans. Whether you cycle every day or just once in a while, you can help us leave hunger in the dust.
Miracle Tour – Haughton, LA
October 6, 2018 is the 2018 Miracle Tour benefiting Children's Miracle Network programs.  This ride is organized by the Christus Foundation to help Children's Miracle Network Programs through out the ARKLATEX region.
Tour de Taco – Clovis, NM
Tour de Taco benefits Boy Scout Troup 226 in Clovis, NM. Route distances: 20, 40 and 60 miles.
The CareFlite Paluxy Pedal – Glen Rose, TX
The CareFlite Paluxy Pedal is fast becoming one of the top rides in Texas. The ride starts and ends at the northern tip of the Hill Country in beautiful Glen Rose, Texas. The meandering paved route takes you through scenic views, gentle hills and challenging climbs.
Magical Museum Tour – Schulenburg, TX
The "Magical Museum Tour" is a fundraiser and social ride for the Houston Bicycle Museum starting and finishing in Schulenburg, Texas. It features rides of different lengths on low traffic country roads and will also provide you with a chance to visit the famous "painted churches" of Fayette County.
Heart of Texas Bike Ride – Lockhart, TX
Sponsored by the Lockhart Chamber of Commerce, the Heart of Texas Bike Ride is an incredible cycling experience beginning and ending in Historic Downtown Lockhart, the BBQ Capital of Texas. The ride will feature several route options to accommodate all skill levels.
Polk County Spirit Ride – Livingston, TX
This our 6 year to hold our ride supporting Polk County Crime Stoppers… Spirit Ride. Although Livingston is only 75 miles north of Houston, the terrain, air quality, and general tranquility of the area will make you feel like you are in a whole new world. Surrounded by lakes and forests and streams, Polk County prides itself as being a quiet, small-town environment where folks just enjoy the simpler pleasures of life.
Dam to Dam Bike Ride – Jasper, TX
You don't want to miss the event of the season! Saturday, October 6, 2018 , the Jasper Chamber of Commerce will host the Dam2Dam Saddle and Paddle Ride and Family Fun Day. Kayakers and cyclists will pedal/paddle their hardest to get to Martin Dies State Park on Dam B. Participants, Register NOW for this exciting event…the first of its kind in the area!
Saturday, October 6th – Sunday, October 7th:
Bike MS: Valero Ride to the River – San Antonio, TX
The Bike MS: Ride to the River, presented by Valero is a fundraising cycling event. This South Texas ride offers cyclists a variety of one-day and two-day ride distances including a 161-mile option. The journey from San Antonio to New Braunfels includes celebrations at the overnight and finish line as well as fun-interactive themed rest stops along the route.
We at the WheelBrothers hope you have an amazing weekend, and if you know of any rides we are missing, feel free to tell us!