The STEAM-N-WHEELS page, provides you with the official registration information, ride distances etc. and if you scroll down a bit, videos, interviews and ride reports for this event. If you don't see a ride report and you participated in the event in the past, feel free to type something up and we'll add it here!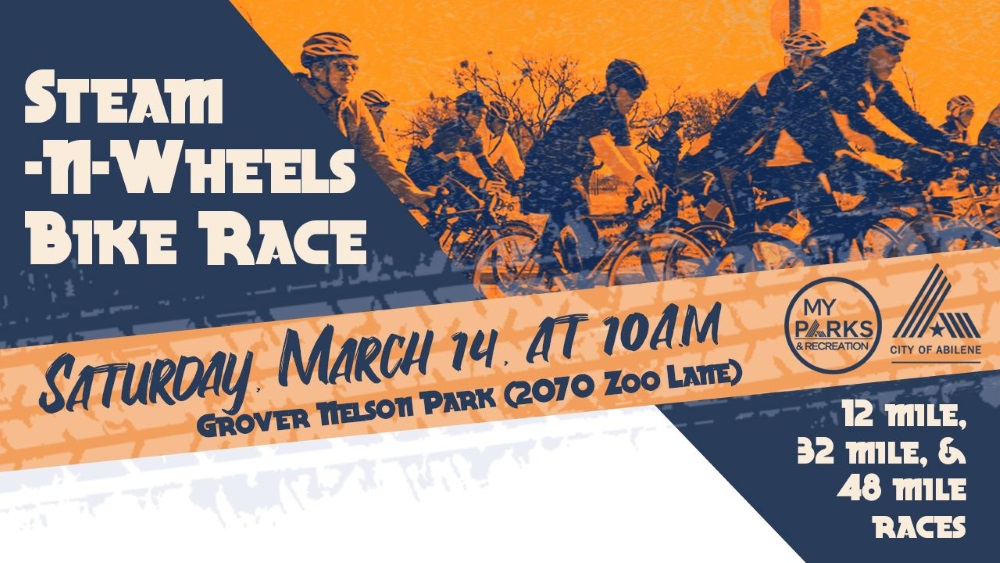 Date: March 14, 2020
Event: 27th Annual STEAM-N-WHEELS
Route Distances: 12, 32 and 48 Miles
About the Ride:
Join us for our 2020 Steam-N-Wheels Bike Race happening Saturday, March 14! There are three different distances, one 12 mile, one 32 mile, and one 48 mile. The race will start at Grover Nelson Park (2070 Zoo Lane) at 10am, and it's $35 per individual. Late registration happens from 8-9am on the day of the race, and it'll be $45 per individual. Racers can pick up their packets on Friday, March 13 from 8am-5pm at Community Services at 633 Walnut Street. There will also be prizes available for winners of the different age divisions! You can register online Friday, December 20 at www.abilenetx.gov/signup!
Location: 2070 Zoo Lane, Abilene, TX  79602
Event Website: www.abilenetx.com
Registration details: Online registration via Bikereg.com
Contact info: parksandrec@abilenetx.gov
Find more information about other rides on our mainpage