We have seven cool events happening this weekend, so if you're up to riding this week choose one of these amazing rides: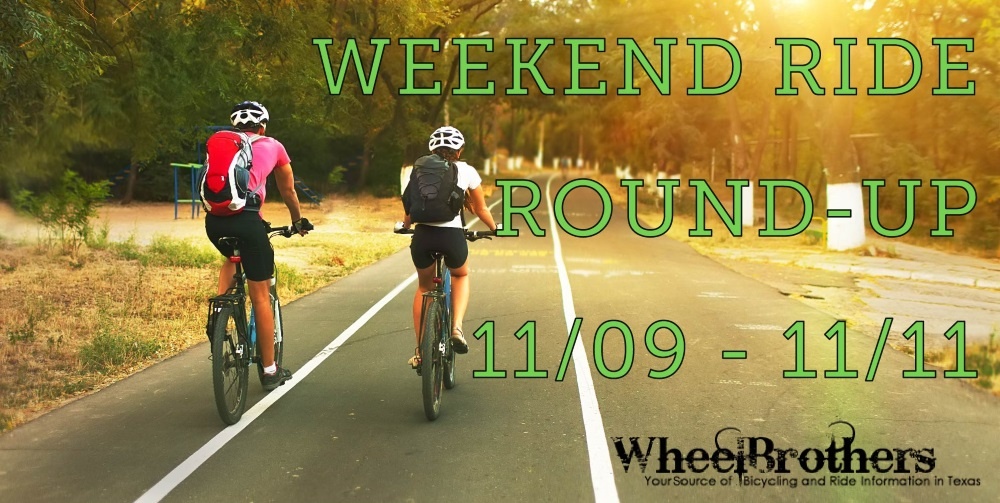 Saturday, November 10th:
Rock N Ride music fest – Cleveland, TX
Rock N Ride music fest, in Cleveland, TX. Nov 11, 2018, put on by the Cleveland Chamber of Commerce, routes up to 100 km.
Hungry 100K Bike Rally – Burleson, TX
Join us for a road bike rally over the best roads in North Texas. Riders will start in old town Burleson and head out to the rolling terrain in rural Johnson County. 100% of the proceeds will go to local charities to improve the lives of those less fortunate through Harvest House.
Honor Ride Houston – Wallis, TX
The Honor Ride is a non-competitive cycling event where active service members, injured veterans, first responders and the general public all get to ride together.
UHCCF Mission Ride – San Antonio, TX
RIDE LIKE A CHAMPION, AMONG THE FAMOUS MISSIONS OF TEXAS
Join us—as a sponsor or a rider —at the Inaugural UnitedHealthcare Children's Foundation (UHCCF) Mission Ride in San Antonio, TX and help us reach our goal to award 20,000 medical grants to children and families in 2020.
Sumo 50 Charity Ride – Austin, TX
On November 10th, 2018, 50 people will do a 50-mile bike ride for charity. They will be doing the ride together as a Sumo family in Austin, TX. All the money raised will go towards buying laptops for kids who can't afford them.
HONEY FOUNDATION Bike a thon – Beaumont, TX
5th ANNUAL Bike-a-Thon. Caring, Sharing & Understanding the needs of financial help. CANCER RELIEF FUND.
Tour Das Hugel – Austin, TX
What the hell is Tour Das Hugel? A ride to Hell and back. Does anyone have a roadmap to hell or a Garmin file? Das Hugel is at least 110 miles of Austin's most brutal hills. (Some swear it's up to 113 miles and climbing varies from 10k-13k, but who is counting?)
That's it for this week! Have fun riding this weekend and if we're missing some rides in our calendar feel free to tell us!