We have eight cool events happening this weekend, so if you're up to riding this week choose one of these amazing rides: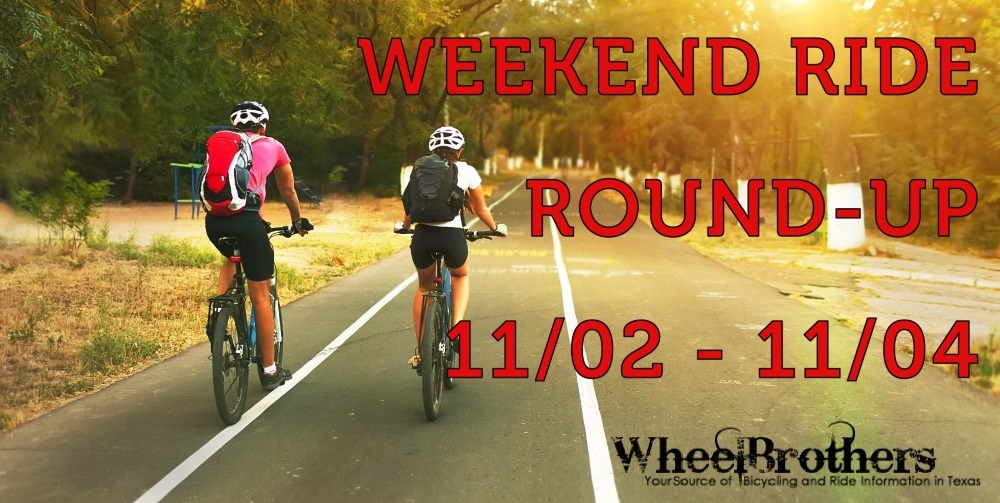 Saturday, November 3th:
Mineola Pedal for Paws – Mineola, TX
Come join us on a ride through the beautiful countryside of East Texas and help a great charity, APET SPCA, and enjoy a hearty post-ride (11:30 am – 2:00 pm). Post-ride Michelob Ultra provided by R&K Distributors.
Tour de Gruene – New Braunfels, TX
Tour de Gruene Fall Bicycle Classic hosts cycling tours and competitive time trials along beautiful River Road in New Braunfels, Texas. Surrounded by limestone cliffs and encircled by the Guadalupe River it's hard to imagine a more scenic location than the Lazy L & L Campground valley property.
Bike to the Beach Houston – Houston to Galveston, TX
Bike to the Beach is more than just an event, its an experience. With us, you will form new lifetime friendships and make a difference while sweating a little and having lots of fun!
Tour de Fox Lone Star – Southlake, TX
By joining the Tour de Fox 2018 Series, you're helping us close the gap on a cure for Parkinson's disease. Riders of any experience level, event volunteers, and finish line party-goers are all welcome!
Dallas Bike Ride – Dallas, TX
Dallas Bike Ride is Dallas' only car-free, recreational bike ride. The second annual ride will take place on Saturday, November 3. The bike ride is for all ages (3+) and all biking abilities. Choose from a 20-mile or 10-mile route that is completely closed to cars – just you and your bicycle.
Bike/Walk/Run for diabetes – Sinton, TX
CPL Mark Goyet Post 12160 & Auxiliary will be hosting a Bike/Walk/Run event November 3, 2018 @ 8:00 AM. We will start and end at the VFW 6625 HWY 77S Sinton, Texas. All proceeds go to the American Diabetes Association.
Sunday, November 4th:
Raul Alcala Challenge South Padre Island – South Padre Island, TX
This is the third annual Raul Alcala Challenge / Gran Fondo now in South Padre Island, TX onSunday November, 4th 2018,  hosted at Schlitterbahn Water Park, South Padre Island TX.
Sweatin' Burnt Orange Bike Tour – Blanco, TX
The Sweatin' Burnt Orange Bike Tour, now in its 14th year, is the annual fundraiser for The University of Texas at Austin Cycling Club.  Each year, Texas alumni and club supporters ride through the beautiful hill country around Blanco, Texas.
That's it for this week! Have fun riding this weekend and if we're missing some rides in our calendar feel free to tell us!