A Florida grandmother pedals west to Cali with little more than faith and the friends she meets along the way
Part 1 of 2 of a Wheelbrothers photo journal feature…stay tuned!
Meet Patricia McNeal.
Her mother, father, and sister each died of a stroke. But she is a stroke survivor.
While there are not many black men and women riding in her hometown of Panama City, FL, she is riding about 50 miles a day for errands, exercise and recreation.
The longest distance this 57-year-old, mother-of-three has pedaled in one trip is 101 miles, but when she finishes her goal, she will have completed over 2,200 miles from Panama City to Burbank, California.
Patricia McNeal, also known as "Lola" or "Grandma Lola," left Panama City, FL at the end of September. With only a backpack and a cell phone, her Trek Emonda, the support of her husband and a social media invitation for donations, she has now pedaled her way to San Antonio, TX. The local newspaper, The News Herald, featured Patricia as she set out on her journey.
From the News Herald:
McNeal said she doesn't "think" she can accomplish her goal, she "knows" she can do it, and so does her husband, Tommie McNeal.
"I'm quite sure she can make it," he said. "I'm excited she's attempting it. She had a stroke about five years ago, and she wanted to prove to people regardless of your physical situation, you can overcome your disabilities."
In fact, it was Tommie McNeal who got his wife into cycling. He's been cycling since the 1980s.
http://www.newsherald.com/news/20180918/stroke-survivor-to-bike-across-country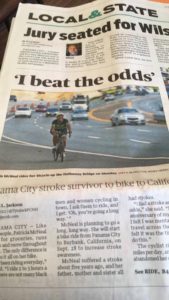 Initially, Patricia used Siri for directions for her long journey across country, but after a mishap or two, she has chosen more reliable mapping options. Additionally, Patricia carries with her only what can fit in a backpack. Her nutrition is peanut butter and raw foods. She does not have a SAG vehicle. She does not yet have gear for inclement weather. She admits that she is just learning.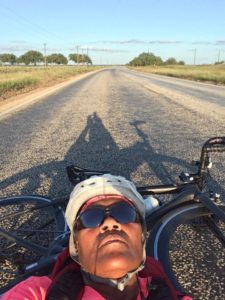 As usual, there are doubters—many well-meaning, and some very vocal. What is Patricia's response? "This is my adventure and I am loving it."  This is consistently her attitude and response on the road. Patricia provides public posts on her Facebook page that are real and endearing. There is laughter and tears. She also makes up songs as she goes and shares them on Facebook live videos. There was one about the hills in Texas being the same in every town, "Heyyy, Hooo, Heyyy, Hooo" and then also, "Don't you wish your Grandma could ride a bicycle like me? Don't cha?" On her hardest days, she thinks of her mother, father and sister. She thinks of the devastation in her home state. She knows she must pedal on.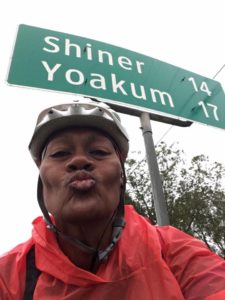 And, in chatting with her, she sincerely has no idea how many lives she is affecting, but when you read and watch Patricia's posts on her Facebook page and see the interactions with countless people whose hearts are touched simply by meeting her, you know they are in the midst of someone special.
Patricia has met some of her biggest challenges in Texas. This is where WE come in, Texas cyclists! She's endured Texas hills and drought-ending rain. She needs gear in the form of a rain jacket, padded pants, a portable phone charger, and winter gloves. Let's show her some good old-fashioned Texas Love!
Can you help with a roof for the night, equipment along the way or just interested in riding next to her?
Then contact her on her Facebook page:  https://www.facebook.com/heelzonwheelz/
Or send direct donations to Patricia McNeal, PO Box 1733, Lynn Haven, FL, 32444.
Photos by Patricia McNeal.
Lisa Tilley is a contributing writer for WheelBrothers, is a member of Fort Worth based MBBC, and is in sales at Bicycles Inc.