The Tour Das Hugel page, provides you with the official registration information, ride distances etc. and if you scroll down a bit, videos, interviews and ride reports for this event. If you don't see a ride report and you participated in the event in the past, feel free to type something up and we'll add it here!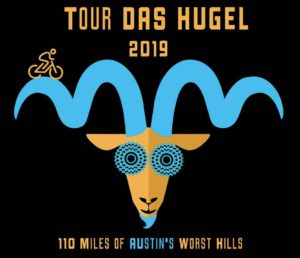 Date: November 9, 2019

Event: Tour Das Hugel
Route Distances: 110 miles

About the Ride:
It's that time of year again, when the hills are alive with the sound of gasping. Join us on Saturday, Nov. 9, on Stratford Drive, (6:30 a.m. / Roll at 7 a.m.) Please also note that all T-shirts ordered must be picked up before the ride, so give yourself a bit of extra time for pickup.
Location: MoPac Pedestrian Bridge (Stratford Lane), Austin, TX
Event Website: www.dashugel.com   |   Facebook page   |  Facebook event
Registration: Free
Find more information about other rides on our mainpage