The Mineola Metric 100 Bicycle Ride page, provides you with the official registration information, ride distances etc. and if you scroll down a bit, videos, interviews and ride reports for this event. If you don't see a ride report and you participated in the event in the past, feel free to type something up and we'll add it here!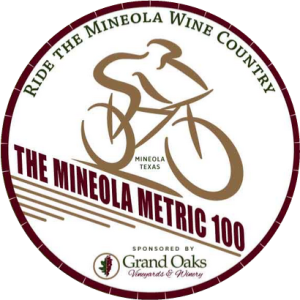 Date: May 16, 2020

Event: The Mineola Metric 100 Bicycle Ride
Route Distances: 17, 26, 41, 51 miles and 100K
About the Ride:
Begin at Mineola's Nature Preserve and bicycle East Texas' beautiful, gently rolling hills on farm roads and quaint country lanes through woodlands, past fields of wildflowers, farms, ranches and vineyards in The Mineola Wine Country. Choose rides from 100 Kilometer, 51mi, 41mi, 26mi, or 17mi including such sections as Old Mineola Road, Old Sabine River Bottom Run, Wanderwood Lane, Roller Coaster Alley and then finish through Grand Oaks Tree Tunnel Lane ending at the Nature Preserve.
Just 90 miles from Dallas or Shreveport — just behind the Pine Curtain — the MineolaMetric100 is East Texas' most diverse and fastest growing bicycle ride.
Five rides: Ride 1 = 100K, Ride 2 = 51 miles, Ride 3 = 41 miles, Ride 4 = 26 miles and Ride 5 = 17 miles.
Ride Start Times:
Ride 1 @ 8:30AM
Ride 2 @ 8:35AM
Ride 3 @ 8:40AM
Ride 4 @ 8:45AM
Ride 5 @ 8:50AM
There will be food and drinks at the beginning and end of the ride at The Nature Preserve. Also, snacks, drinks and water will be available at Rest Stops along the way approximately every 7-8 miles.
Tandems welcome!
Location: 1860 County Road 2724, Mineola, TX  75773
Event Website: mineolametric100.org
Registration: Online registration via BikeReg.com
Contact info: mlmchenry@gowinerymineola.com
Find more information about other rides on our mainpage