The Texas Time Trials page, provides you with the official registration information, ride distances etc. and if you scroll down a bit, videos, interviews and ride reports for this event. If you don't see a ride report and you participated in the event in the past, feel free to type something up and we'll add it here!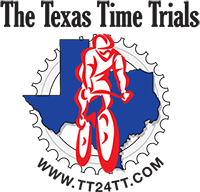 Date: September 19-21, 2019
Event: Texas Time Trials
About the Ride:
The Texas Time Trials would like to extend a warm, Texas-sized invitation to all of y'all. Whether you are an Ultra Racer, Randonneur or a rider wanting to test your abilities against the clock, we have an event for you. The Texas Time Trials is actually five events in one: The Tejas 500-our longest event, The "Iron Butt" 24-Hour Time Trial, The "Tin Butt" 12-Hour Challenge, The 6-Hour Shoot-Out and The 26.5 mile Sprint.
Location: Glen Rose City Park, 1600 NE Big Bend Trail, Glen Rose, TX
Event Website: texastimetrials.com   |   Facebook Page
Registration: Coming soon
Contact info: Online contact form
Find more information about other rides on our mainpage