The Panaracer Texas Chainring Massacre page, provides you with the official registration information, ride distances etc. and if you scroll down a bit, videos, interviews and ride reports for this event. If you don't see a ride report and you participated in the event in the past, feel free to type something up and we'll add it here!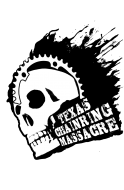 Date: January 26, 2019
Event: Panaracer Texas Chainring Massacre

About the Ride:
THE FASTEST 100K ON GRAVEL! No license required.
The Texas Chainring Massacre is a full on gravel grinder featuring a unique combination of dirt roads and desolate country roads that promises to be both scenic and challenging. Riders will be able to enjoy a fantastic route that starts and ends in the "civilized" part of the D/FW Metroplex near Valley View, TX while meandering through some scenic rural areas.
100K Dash For the Cash – This marked course ride will provide neutral aid/support station at approximately the half way point but no outside support is allowed except at the aid station. Plan to bring enough food and supplies to be self supported in case of break down since it might take several hours for a sweep/sag vehicle to reach stranded riders. Cash payout 3 deep and Series Points awarded.
All roads whether paved or unpaved are public roads subject to the regulations of the great State of Texas. Participants are required to obey all "rules of the road" and laws for the applicable jurisdiction(s) in which they operate their bicycles and/or other vehicles. This applies to both the featured event as well as any practice or warm up events. The Texas Chainring Massacre is an all-weather event unless conditions are deemed unsafe for riders so there is a no refunds policy.
Promoter may modify the course at any time for rider safety or based on course conditions.
100 Mile Open – The classic long distance gravel grinder. This will be a marked course with neutral support at least every 33 miles. Cash payout 3 deep and Series Points awarded.
100K Category races by age/discipline. Awards 3 deep, no cash payout.
Non Competitive Fun Ride – Multiple distance options for everyone from the complete beginner to the all day wanderers. Ideal for those newer to gravel grinding and/or those who want some bonus time hanging out in Valley View and the Whiskey Hollow Distillery.
Hosts and Sponsors – More info soon but the town of Valley View and Whiskey Hollow Distillery will be going above and beyond to roll out the red carpet for us so stay tuned for details!
Race category descriptions:
A Race – The Aces of the field. If it is a payout race this will be the category. Equivalent to Pro/Cat 1
B Race – Badasses. The every day fast folks most of us are jealous of. Equivalent to Cat 2 and Cat 3 sandbaggers.
C Race – Competitive. Likes the thrill of the chase and a badass wannabe.
D Ride – Developmental. Get out there and see what you can do. No pressure of any kind but you will have a recorded time to reference if you are curious how you stack up with others. Not worried about rankings? We're cool with that.
Categories are self declared but we reserve the right to force sandbaggers into an appropriate category at any time. Hint, if you podium more than once you are probably going to be upgraded. If you "win" a C race with a big gap on the field you will probably be upgraded that race unless you've never raced before.
Age breaks will be determined based on total number of entries once the event reaches capacity. The formula will be 10 racer per category (age/gender) based on youngest age and up. Once 10 racers are in an age/gender group the next group begins. Racing age is determined by age on event day.
Location: 703 S Lee St, Valley View, TX 76272
Event Website: www.spinistry.net | Facebook Event
Registration: Online Registration
Find more information about other rides on our mainpage