The Peach Pedal Bike Ride page, provides you with the official registration information, ride distances etc. and if you scroll down a bit, videos, interviews and ride reports for this event. If you don't see a ride report and you participated in the event in the past, feel free to type something up and we'll add it here!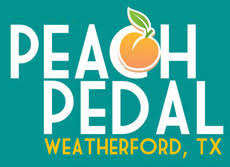 Date: July 11, 2020
Event: Peach Pedal Bike Ride
Route Distances: 28, 39 and 61 miles
About the Ride: 
July 11, 2020
Join us in Weatherford, TX for the Peach Pedal Bike Ride and the Parker County Peach Festival.
The 61-mile ride starts at 7:30 am
The 39-mile ride starts at 7:45 am
The 28-mile and 8-mile rides start at 8:00 am
The Cause
The ride benefits two great causes: the support of many local nonprofits through United Way of Parker County, and the promotion of our wonderful community through the Weatherford Chamber of Commerce. Parker County is proud to have you in our community, and we roll out the red carpet for you!
Location: 2121 Bethel Road, Weatherford, TX  76086
Event Website: www.peachpedal.com
Registration: Online registration via Bikereg.com
Contact info: director@unitedwayofparkercounty.org  817-596-5986
Find more information about other rides on our mainpage