The Heart of Texas Recumbent Rally page, provides you with the official registration information, ride distances etc. and if you scroll down a bit, videos, interviews and ride reports for this event. If you don't see a ride report and you participated in the event in the past, feel free to type something up and we'll add it here!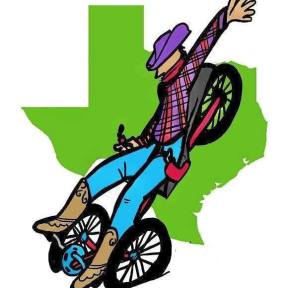 Date: March 21-22, 2020
Event: Heart of Texas Recumbent Rally & Rodeo
About the Ride:  
Since 2010, Easy Street has been getting the recumbent community together for fun, education, and frivolity at what has been this almost annual event.  We limit the number of participants to 100 in order to encourage people to have a chance to really get to know each other; make new friends, find new riding partners.
Join us for two days of fun activities [have you heard of "chicken roping?"], rides [different choices for different levels of riding ability], talks, product demos, food, and silliness — all on, around, and about recumbent trikes and bikes.
As we clarify the details, we will be constantly updating the event page, https://www.wemakecyclingeasy.com/hot-rally/, so keep checking back.  And, in the meantime, you can look at photos and videos from past events, read what people have said about their experience, get excited and … spread the word.
Location: 2041 Rufe Snow Dr #101, Keller, TX  76248
Website: www.wemakecyclingeasy.com
Registration details: Online Registration via Bikereg.com coming soon
Find more information about other rides on our mainpage