The El Don Time Trial page, provides you with the official registration information, ride distances etc. and if you scroll down a bit, videos, interviews and ride reports for this event. If you don't see a ride report and you participated in the event in the past, feel free to type something up and we'll add it here!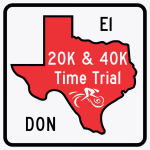 Date: May 12, 2019
Routes: 12.5 mile (20K) & 25 mile (40K)
Event: El Don Time Trial
About the Ride:
The 2019 El Don Bike Race features a 12.5 mile (20K) & 25 mile (40K) individual time trial race. Close to scenic Lake Corpus Christi.
The top 3 in each age group win an award
Commemorative El Don Dri-Fit T-shirt
Electronic chip timing with race results including total time, average speed and age group place
Out and Back Courses
Music
Location: Mathis High School, Mathis TX
Event website: www.vfitproductions.com
Registration details: Online registration
Contact info: gerardo.gomez@dchstx.org
Find more information about other rides on our mainpage