The Dripping Springs Distillery Bike Ride page, provides you with the official registration information, ride distances etc. and if you scroll down a bit, videos, interviews and ride reports for this event. If you don't see a ride report and you participated in the event in the past, feel free to type something up and we'll add it here!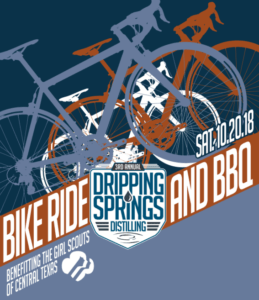 Date: October 20, 2018
Event: 3rd Annual Dripping Springs Distillery Bike Ride
Route distances: 25 or 50 miles
About the ride:
Join Dripping Springs Distilling for our 3rd annual charity bike ride and BBQ. If you'd like to participate in our beautiful ride, which winds along the river and through the incredibly scenic Texas Hill Country, we are offering 2 distances:
50 mile ride: check-in at 7:30am
25 mile ride: check-in at 9:00am
The majority of our ticket sales from this ride will go to benefit THE GIRL SCOUTS OF CENTRAL TEXAS' Outdoor Program.
The ride route will offer 3 nutrition and bike repair stops courtesy of Wolfpack Racing, Hyperthreads, D&W Painting, and Cantu Cycling Wheels.
For all of our riders and those that just want to come out but not ride, we will be hosting a BBQ & after party at our distillery from 11:30am-5:00pm! BBQ will be provided by the multi-award winning RQ Smokemasters' Grilling Team. We will have yard games to play and specialty cocktails available with Dripping Springs Vodka, Dripping Springs Gin, 1876 Vodka, and 1876 Texas Straight Bourbon Whiskey in addition to some non-alcoholic alternatives.
Get tickets at www.drippingspringsvodka.com/
Location: San Luis Spirits Distillery, 5330 Bell Springs Road, Dripping Springs, TX 78620
Event Website: www.drippingspringsvodka.com
Registration: Online Registration
Contact info: marketing@drippingspringsdistilling.com or call 512-858-1199

Find more information about other rides on our mainpage