The Dallas Police Cycling Team's Ride to Remember page, provides you with the official registration information, ride distances etc. and if you scroll down a bit, videos, interviews and ride reports for this event. If you don't see a ride report and you participated in the event in the past, feel free to type something up and we'll add it here!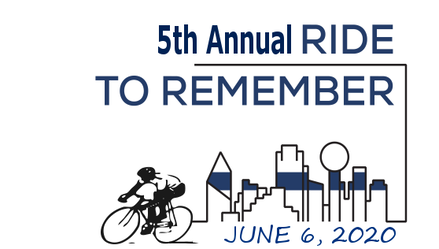 Date: June 6, 2020
Event: Dallas Police Cycling Team's 5th Annual Ride to Remember
Route Distances: 87 miles
About the Ride:
Saturday, June 6th, 2020, the Dallas Police Cycling Team will ride the 5th annual Ride to Remember. This year's unity ride will be 87 miles in memory of the 86 Dallas Police Officers that have died in the line of duty during the history of our Department and for DART Officer Brent Thompson who died in the line of duty with four Dallas Police Officers on 7/7/16.
Location: Dallas Police Association, 1412 E Griffin St Dallas, TX  75215
Event Website: www.dpdcycle.com
Registration details: Online registration via Active.com
Contact info: registration@dpdcycle.com
Find more information about other rides on our mainpage