The Brazos River Bike Rally page, provides you with the official registration information, ride distances etc. and if you scroll down a bit, videos, interviews and ride reports for this event. If you don't see a ride report and you participated in the event in the past, feel free to type something up and we'll add it here!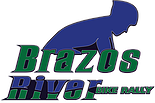 Date: April 11, 2020
Event: Brazos River Bike Rally
Route Distances: 20, 45 and 65 miles
About the Ride:
The Brazos River Bike Rally – a fundraising bicycle ride, supporting the City of Missouri City Bicycle Mobility and Pedestrian Plan, the Missouri City Parks Foundation, and Missouri City Green.
With each scenic route, passing state of the art – ergonomically designed business complexes, historic landmark sites, award winning neighborhoods, and master-planned parks, will present to riders the essence of a City that is recognized as one of the best places to live in the State of Texas.
With three distance options, the Brazos River Bike Rally is the perfect event for leisure riders or cycling enthusiasts.
All 20, 45, and 65 mile routes are routinely supported with rest stops, hydration products, food to fuel the journey and cheerleaders to encourage your effort.
Start/Finish is at the City of Missouri City Community Park, 1700 Glenn Lakes Lane, Missouri City, TX 77459
Ride start time: 8:00 a.m. – We ride rain or shine.
Ample parking is available.
Time limits for each route will be posted at the event.
Location: City of Missouri City Community Park, 1700 Glenn Lakes Lane, Missouri City, TX 77459
Event Website: www.brbr.rocks
Registration: Online Registration via BikeReg.com
Contact info: BrazosRiverBikeRally@gmail.com
Find more information about other rides on our mainpage