The Blazin' Saddle 75 page provides you with the official registration information, ride distances etc. and if you scroll down a bit, videos, interviews and ride reports for this event. If you don't see a ride report and you participated in the event in the past, feel free to type something up and we'll add it here!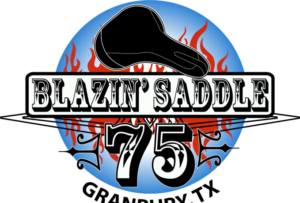 Date: August 1, 2020
Event: 12th Annual Blazin' Saddle 75
Routes: 20, 44 and 75 miles, and 100K
About the ride:
Come sweat with us in Granbury Texas on Saturday August 1st 2020 at 7:30 am for the 10th Annual Blazin' Saddle 75. The routes are hilly and the hot weather presents a wonderful training opportunity for the Hotter than Hell 100. Our 75 mile course is one of the most challenging in North Texas with over 4000 "ish"vertical feet gained over 75 miles.  We have three signature climbs: Skulls Crossing, Mongos Mountain, and The Peak.  New for 2018 better marking for the skulls crossing climb and the bailout.  This is a short but steep climb, 17% grade that's not for everybody.  The event has four different approximate distances; 75 miles, 100K, 44 miles and 20 miles. We are excited to benefit Texas EMS for this event.  Well supported tour with aid stations placed every 10-12 miles. After the event, enjoy the Historic Granbury Square with lots of great shopping and food, Head down to the public beach to cool off in beautiful Lake Granbury.  Register early to be guaranteed a t-shirt.  We cannot guarantee shirts to athletes that register on event day.  Shower facilities provided by Granbury Middle School.
Location: Granbury Middle School, 2000 Crossland Rd. Granbury , TX 76048
Event Website: www.blazinsaddle75.com
Registration: Online registration via BikeReg.com coming soon
Contact info: By Phone: Scott Pangle: (817) 899-3681   Email at: blazinsaddle75@yahoo.com
Find more information about other rides on our mainpage