The Autumn in Bonham Bike Rally page, provides you with the official registration information, ride distances etc. and if you scroll down a bit, videos, interviews and ride reports for this event. If you don't see a ride report and you participated in the event in the past, feel free to type something up and we'll add it here!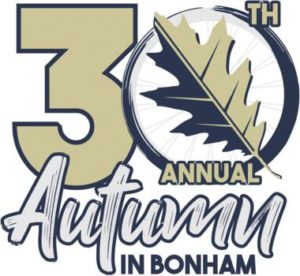 Date: September 28, 2019
Event: 30th Annual Autumn in Bonham Bike Rally
Route Distances: 13, 26, 47, 65, 83, and 100 miles; Gravel Routes: 30 and 46 Mile Route
About the Ride: 
In addition to 6 bike ride routes, 2019 we will have two gravel routes.  All routes begin at the newly renovated Bonham High School.
Also note that Autumn in Bonham features one of the few 100 miles rides in the state. 100 mile riders must arrive at the 50 mile Liberty Gate (junction of FM 128 and FM 1530) by noon or be redirected to the 83 mile route.
Registrations are non-refundable. CPSC approved helmets are required.  Rest stops are approximately every 10 miles. 
Packet pickup and day-of registration will begin at 6:30 am at Bonham High School.
Any changes to schedule or activities will be listed on the Autumn in Bonham Facebook page.  The Facebook page also has links to places to stay in Bonham.
The Event fee will increase $5 per ride on 9/27/2019.  REGISTRATION THE DAY OF THE EVENT  (9/28/2019) WILL BE $40 FOR EACH RIDER
T-SHIRT Sales after 9/12/2019 can still be ordered but delivery by USPS will be to the address used at signup. The $5 shipping fee is part of the cost of the T-shirt.  T-Shirts ordered before 9/12/2019 will be with packets when picked up.
Early Packet Pick-Up:
Richardson Bike Mart, Wed, Sept 26, 11am-7pm
McKinney Bike Mart, Thurs, Sept 27, 11am-7pm 
The 2018 Autumn in Bonham Bike Rally Rides can be seen on Ride with gps by length:
Location: 1002 War Path St, Bonham, TX 75418
Event Website: Facebook Page
Registration details: Online registration via BikeReg.com
Contact info:  bonhamchamber@cableone.net
Find more information about other rides on our mainpage