The Colorado DEATH RIDE Tour page, provides you with the official registration information, ride distances etc. and if you scroll down a bit, videos, interviews and ride reports for this event. If you don't see a ride report and you participated in the event in the past, feel free to type something up and we'll add it here!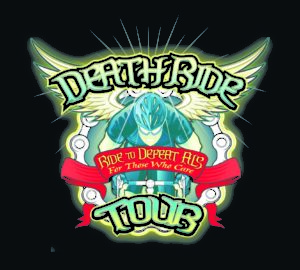 Date: June 8-10, 2019
Event: Colorado DEATH RIDE Tour
Route Distances: 235 miles
About the Ride:
It is time to declare war on ALS and the Death Ride Tour in Aurora, CO, is going to bring the fight right to this dastardly disease. Death Ride Tour, Inc., Charity Cycling Events provides racing cycle and bike events throughout the state so that cyclists can enjoy a competitive event while raising money for ALS charities.
The Death Ride Tour VIII Ride to Defeat ALS is a fundraising event to support the Rocky Mountain Chapter of the ALS Association along with the Blazeman Foundation, WAR on ALS. Each participant of our race is required to raise a minimum of $300 in contributions by the first day of the tour so that we can provide much needed funding to the fight against ALS. Furthermore, a personal fundraising page can be setup through the imATHLETE Campaign to help raise additional funds for the charities supported by our Death Ride Tour. Please note that registration fees are non-refundable and non-transferable.
The Death Ride Tour covers more than 235 miles over three days with about 16,500-feet of elevation gain. What does that mean to you as a cyclist? It means that this is a very challenging bike tour that is specifically designed only for cyclists who have been properly trained. It also means that you need to have your bicycle properly serviced before the event begins at your local bike shop to ensure that everything is optimized for this challenging course.
As a participant of the Death Ride Tour VIII, you will receive a rider package at check-in, which includes your jersey, t-shirt, and tour information. Complete SAG support and AID stations, including luggage transfers, are provided to all participants to ensure that they have what they need throughout the ride.
Additionally, all lodging is the sole responsibility of the participant throughout the tour. There are group rates available in Silverton, Telluride, and Durango that can help you reduce costs. Our organization recommends that you book your hotel rooms as soon as possible to ensure availability during the tour.
Contact us for more information about our racing cycle events and fundraisers. We are proud to unite cyclists from Aurora, Colorado, and the surrounding areas.
Location: Southwestern Colorado – Silverton Wyman Hotel, Silverton, CO and Silverton, Telluride & Durango , CO
Event Website: www.deathridetour.com
Registration details: Online registration
Contact info: barry@deathridetour.com

Find more information about other rides on our mainpage