The Rosedale Ride page, provides you with the official registration information, ride distances etc. and if you scroll down a bit, videos, interviews and ride reports for this event. If you don't see a ride report and you participated in the event in the past, feel free to type something up and we'll add it here!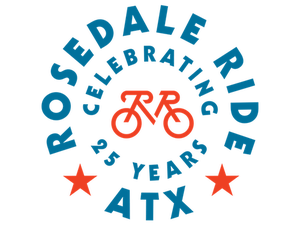 Date: April 6, 2019
Event: The 25th Rosedale Ride

Route Distances: 23, 42 and 62 miles and chilren's fun ride 2 miles
About the ride:
25th Anniversary Rosedale Ride
The Rosedale Ride is an annual charity bicycle ride with routes of 23, 42, and 62 miles and a children's fun ride of 2 miles. Begins and ends at Samsung Austin Semiconductor. This is the super-duper 25th Anniversary Ride!!
The Rosedale Ride raises money for the Rosedale Foundation, a (501-c3) non-profit organization, whose mission is to support the children of Rosedale School, AISD's only school exclusively for children with multiple disabilities and profound needs.
The 2019 Rosedale Ride will closely follow the same routes as previous rides with some changes. Please note that the routes may change right up to the start of the Ride. Maps are posted on our Facebook page: https://www.facebook.com/RosedaleRide/ . Check there for updates.
25th Anniversary Celebration & Packet Pick Up: On the Thursday before the ride, April 4, 6:00 pm to 9:00 pm, you can meet the people behind the Ride. Pick up your Ride t-shirt and packet, enjoy live music, an open bar,  and fabulous food while participating in a raffle for great prizes, and supporting the PTA's Rosedale Prom. The celebration will be in the Silicon Labs Lobby at 200 West Cesar Chavez, 78701. Please RSVP by 3/29 at https://form.jotform.com/90434928937166.
You can also get your Ride Packet at the Ride on the morning of the Ride.
Location: Samsung Austin Semiconductor, 12100 Samsung Blvd, Austin, TX 78754
Event Website: rosedaleproud.org
Registration: Online registration
Find more information about other rides on our mainpage