The Baytown YMCA Gator Ride page, provides you with the official registration information, ride distances etc. and if you scroll down a bit, videos, interviews and ride reports for this event. If you don't see a ride report and you participated in the event in the past, feel free to type something up and we'll add it here!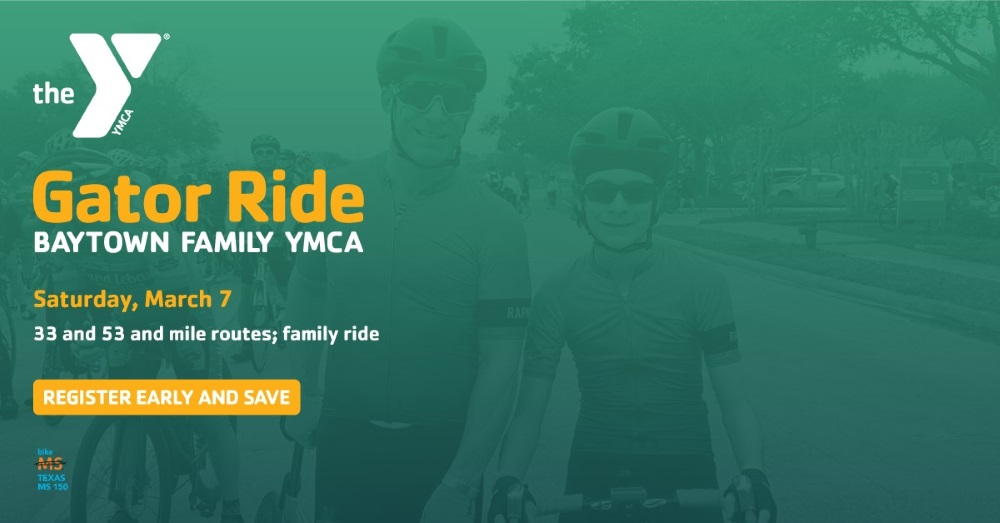 Date: March 7, 2020
Event: Baytown YMCA Gator Ride
Route Distances: 33 and 53 miles

About the Ride:
The YMCA Gator Ride is a Baytown tradition and will celebrate 31 years in 2020! As a Texas MS 150 recommended ride, with two distances crossing over the scenic Fred Hartman bridge, this is an event that you need to place on your schedule! Course lengths are 33 and 53 miles, so there's something for most everyone. There is even a 4.7 mile family ride! All proceeds from the YMCA Gator Ride go toward our Annual Campaign. The YMCA Annual Campaign helps everyone, regardless of age, income or background, have the opportunity to learn, grow and thrive.
Programs include child care, summer camps, swim lessons, sports leagues and assistance to various area outreach programs. Every dollar raised is an investment in the Baytown community. We hope you'll join us for the 31st Annual YMCA Gator Ride on March 7, 2020.
Event details and schedule
REGISTRATION INFO:
The first 700 riders who register are guaranteed a ride shirt.
ACCOMMODATIONS:
Reach out to Erika Koehler at erikam@ymcahouston.org for additional details on accommodations.
COMMUNITY EVENT:
Be sure to visit our vendor booths throughout the event.  For those interested in a vendor booth, reach out to Jessica Baines at jessica.baines@ymcahouston.org
*All riders must wear an approved cycling helmet.
Event Website: Facebook page   |   Facebook event
Registration details: Online registration via Active.com
Contact info: DeAndra Stanley at deandrae@ymcahouston.org
Find more information about other rides on our mainpage