The Team NPF Cycle in North Texas page, provides you with the official registration information, ride distances etc. and if you scroll down a bit, videos, interviews and ride reports for this event. If you don't see a ride report and you participated in the event in the past, feel free to type something up and we'll add it here!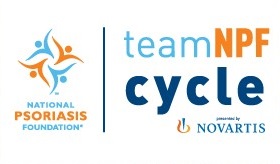 Date: March 23, 2019

Event: Team NPF Cycle in North Texas
Route Distances: 10, 25 and 63 miles

About the Ride:
Register today for Team NPF Cycle in North Texas. You'll have a wheel good time raising funds for a cure for psoriasis and psoriatic arthritis. Sponsorship and volunteer opportunities are available; contact us for details.
Arrive early for a continental breakfast before enjoying your choice of three routes (10, 25 and 63 miles). All routes include rest stops, SAG vehicles, bike mechanics and roving ride marshals throughout. Your ride returns you to the "World's Most Famous Ranch: Southfork Ranch" to enjoy lunch as we celebrate your accomplishments and success towards finding a cure for psoriatic disease.
Location: Southfork Ranch, 3700 Hogge Road, Parker, TX 75002
Event Website: www.teamnpf.org/northtexascycle
Registration: Online registration
Contact info: Kristen McCaffery | kmccaffery@psoriasis.org | 469-644-6685
Find more information about other rides on our mainpage