The Resaca City Bike Tour page, provides you with the official registration information, ride distances etc. and if you scroll down a bit, videos, interviews and ride reports for this event. If you don't see a ride report and you participated in the event in the past, feel free to type something up and we'll add it here!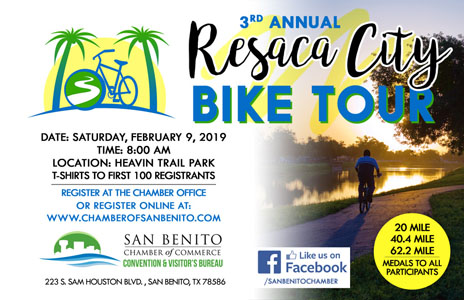 Date: February 9, 2019
Event: 3rd Annual Resaca City Bike Tour
Route Distances: 20, 40.4 and 62.2 miles

About the Ride:
Join the San Benito Chamber of Commerce for our 3rd Annual Resaca City Bike Tour around the beautiful resacas of San Benito! There will be 3 separate races. A 20 mile, 40.4 mile and a 62.2 mile race. Medals to all participants. Only the first 100 registrants receive t-shirts.
Location: Heavin Trail Park, San Benito TX 78586
Event Website: chamberofsanbenito.com

Registration: Online registration
Contact info: info@chamberofsanbenito.com
Find more information about other rides on our mainpage