The Miracle Tour page, provides you with the official registration information, ride distances etc. and if you scroll down a bit, videos, interviews and ride reports for this event. If you don't see a ride report and you participated in the event in the past, feel free to type something up and we'll add it here!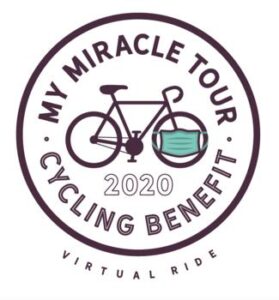 Date: October 3 – November 3, 2020

Event: Third Annual Miracle Tour
Route Distances: 5, 14, 28, 42, and 64 miles
About the Ride:
This year, your virtual Miracle Tour can take place anytime from Oct. 3 through November 3. Ride all your miles at once, or add them up over the month! We just want you out there riding for the kids!
We're encouraging riders to go for 64 miles in a month's time (10/3-11/3), but you can earn badges for riding our traditional route lengths of 5mi, 14mi, 28mi, 42mi and 64mi!
ROUTES – Taking the traditional approach? You can ride from anywhere you like! If you're a traditionalist, you'll find maps to our Miracle Tour routes below!
14 miles (map) • 28 miles (map)
42 miles (map) • 64 miles (map)
ENTRY FEES
All registrations for our virtual ride are $20 – that's a 50% discount from our normal ride fees, and we'll send you a pair of 2020 Miracle Tour socks just for signing up!
WIN PRIZES!
We'll have weekly chances to win prizes just by interacting on our Miracle Tour Facebook event page. Submit photos, questions or routes, and  you could win fabulous prizes from our Miracle Tour vault! Submit your entries to cmnsb@christushealth.org
Miracle Tour Mondays: we want pictures from your current Miracle Tour effort OR a favorite memory from a past Miracle Tour.
Bike Tip Tuesdays: submit a question to be answered by local cycling leaders.
Throw Back Thursday: we want pictures from a favorite cycling experience – it can be a past ride, your favorite childhood bike, learning or teaching someone to bike – whatever you choose!
My Favorite Route Friday: Tell us your favorite route, and we'll pick one to post each Friday for folks planning their weekend rides!
Location: Haughton High School, 210 E McKinley Ave, Haughton, LA 71037
Event website: www.miracletour.org
Registration: Online registration via BikeReg.com
Contact info: 318.588.0781
Find more information about other rides on our mainpage