The Marfa100 Cycling Challenge page, provides you with the official registration information, ride distances etc. and if you scroll down a bit, videos, interviews and ride reports for this event. If you don't see a ride report and you participated in the event in the past, feel free to type something up and we'll add it here!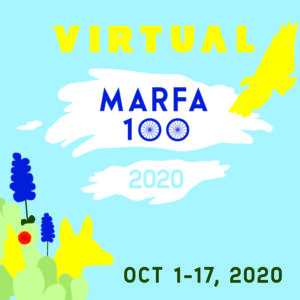 Date: October 1 – 17, 2020
Event: Virtual Marfa 100 Cycling Challenge

Route distances: 100K
About the Ride:
Registration is open for the Marfa100, a 100k cycling race hosted in Marfa, TX. In response to the pandemic, this year the Marfa 100 is going virtual. Riders can complete the 100k from anywhere during the challenge period from October 01 – October 17. Ride the 62 miles all at once, or do a series of shorter rides that add up to the total mileage.
We're offering an option to sign up as an individual, or in a relay team of 2,3 or 4 people. Even if you're not an experienced cyclist, you can do this ride! It's open to everyone on any type of bike, anywhere. You'll log your miles through your RunSignUp profile in as many chunks as you'd like.
Awards will be given for the three fastest overall male and female finishers (ride completed in the shortest total time), as well as for the rider who climbs the most elevation over the course of their ride. If you want to be considered for the overall winner awards you must complete the entire 100k in one continuous ride.
A portion of this year's ride proceeds will go to the Marfa Food Pantry. Open since 2015 the food pantry currently offers grocery and fresh produce pick up for over 60 local families twice a month. Use of the pantry has been growing over the course of the pandemic, and their non-profit operation could benefit from any donations to help with the increased demand. During the course of the race period from Oct 01 – Oct 17, all donations made through the "Donate" button on the homepage will go directly to the Marfa Food Pantry.
Location: Marfa, TX 79843
Event Website: Facebook page
Registration: Online registration
Contact info: marfa100k@gmail.com
Find more information about other rides on our mainpage