The Katy Flatland Century page, provides you with the official registration information, ride distances etc. and if you scroll down a bit, videos, interviews and ride reports for this event. If you don't see a ride report and you participated in the event in the past, feel free to type something up and we'll add it here!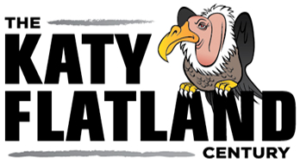 Date: July 21, 2019
Event: 32nd Annual Katy Flatland Century
Route Distances: 22, 33, 44, 69, and 102 miles



About the ride:
The 32nd annual Katy Flatland Century will start from Paetow High School in Katy, Texas. This fully supported ride will offer 5 different routes – 22 miles, 33 miles, 44 miles, metric century (69 miles), and Katy Flatland Century (102 miles). The course begins in Katy and travels north. Be sure to prepare for HOT weather, and beware of the Buzzard!

Start/Finish Location:  Paetow High School, Katy Texas
Routes:  22-100 miles.
Registration is open at a brand new venue, Paetow HS,  away from Katy Mills Mall and Fushear Hwy 1093 traffic.
https://www.google.com/maps/place/Patricia+E.+Paetow+High+School/@29.8449616,-95.7789383,17z/data=!3m1!4b1!4m5!3m4!1s0x8641262c0adba253:0xbd62359eda3f88ae!8m2!3d29.8449616!4d-95.7767443
http://ridewithgps.com/users/108683/routes  2019 routes   click on   Routes tab to see KFC routes 2019
Directions to Start:
From Houston Take I-10 to Katy, Texas. Exit Grand Pkwy at exit 743B and head North on TX-99 and take the Clay RD exit.  Turn LEFT on Clay, turn RIGHT on Peek, and LEFT on Stockdick School Road.  Follow parking signs and parking attendants.
Registration and Packet Pickup.  There will be two locations for Packet Pickup.
At Northwest Cyclery – 17464 Northwest Freeway (hwy 290 at Jones Rd) First exit past Beltway 8 off Hwy 290
Friday, July 19th from 11:00 am to 6:00 pm – $45
Saturday, July 20th,  from 11:00 am to 4:30 pm –  $45
At Host Hotel – HomeWood Suites 25,495 Katy Mills Parkway, Katy, Texas 77494   Saturday, July 20th 6:30 pm to  9:00 pm   – $45
Onsite: Day of Ride, Sunday, July 21th,  5:30 am to 7:30 am – $50.
Location: 23111 Stockdick School Rd, Katy, TX 77493
Event website: kfc.bike   |   Facebook Page
Registration info: Online registration via BikeReg.com
 Find more information about other rides on our mainpage