The Fire-Ant 100 page, provides you with the official registration information, ride distances etc. and if you scroll down a bit, videos, interviews and ride reports for this event. If you don't see a ride report and you participated in the event in the past, feel free to type something up and we'll add it here!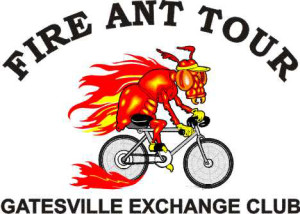 Date: June 13, 2020
Event: 25th Annual 100K Fire-Ant Tour
Route distances: Approximately 10 miles, 32 miles, 50 miles, and 100K
About the Ride:
25thAnnual 100K  Fireant Tour
 Gatesville, Texas
Saturday, June 13, 2020
Ride Packet Pickup & Onsite Registration: Saturday, June 13, 2020, 6:30-8:00 a.m. at the Gatesville Civic Center, 301 Veteran's Memorial Drive, Gatesville, Texas.
Ride starts: 8:00 AM
Routes are approximately 10, 32, 50 miles and 100 K (approx. 62.5 mi) on paved county roads. All riders are required to wear helmets and safety gear.
Sag Stations will be placed at 10-mile intervals, and at the start-finish area.  Porta-potties will be available at all Sag Stations and Sag Wagons will be driving all routes throughout the ride to assist if needed.
Register by May 24th to guarantee receiving your Fire Ant T-Shirt.
Registration is open now!
Location: Gatesville Civic Center, 301 Veteran's Memorial Drive, Gatesville, TX

Event website: www.GatesvilleExchangeClub.org   |   Facebook Page

Registration: Online registration
Contact info: Click here
Find more information about other rides on our mainpage