The Raquel's Wings – The Eighter from Decatur Bicycle Rally page, provides you with the official registration information, ride distances etc. and if you scroll down a bit, videos, interviews and ride reports for this event. If you don't see a ride report and you participated in the event in the past, feel free to type something up and we'll add it here!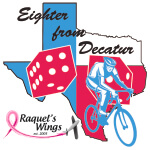 Date: September 12, 2020
Event: Raquel's Wings – The Eighter from Decatur Bicycle Rally
Route Distances: 8/25/50/100 miles
About the Ride: 
8,25,50, or 100 miles!
FREE CAMPING
Early Registration Entry Fee $35 ($40 on race day)
Registration opens at 6:00 AM with an 7:00 AM Start at Decatur Jet Center.
The Eighter from Decatur Bicycle Rally 8/25/50 or 100 miles race! The day will be a fun-filled, family-friendly event designed to get our participants out of the city to enjoy the back-country roads of Wise and Montague counties, all while raising money for a worthwhile cause, the transport of cancer patients to treatment centers by airplane, free of charge to the patients. The countryside is beautiful, the roads are good, the people are friendly, and the after-race meal is free! Come join us for a great race and fun day!
Leaving Decatur municipal airport, enjoy up to a 50 mile scenic ride through Alvord, Forrestburg, Greenwood and back to the Airport. There will be 4 rest stops throughout the route along with the main rest stop at the Airport. All proceeds benefit Raquel's Wings for Life. An event t-shirt and a rally medallion will be given to all participants. Lunch provided to all participants.
Location: Decatur Municipal Airport 351 Airport Rd., Decatur , TX 76234
Event Website: raquelswingsforlife.com   |   Facebook page
Registration details: Online registration
Contact info: Kerri LaBrada at klabrada@coleschotz.com
Find more information about other rides on our mainpage