The Castell Grind page, provides you with the official registration information, ride distances etc. and if you scroll down a bit, videos, interviews and ride reports for this event.  If you don't see a ride report and you participated in the event in the past, feel free to type something up and we'll add it here!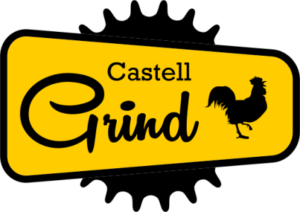 Date: April 13, 2019
Event: Castell Grind
Route Distances: Full Grind 100K, 3/4 Grind 72K and Half Grind 50K
About the Ride:
The Castell Grind is comprised of three separate endurance gravel races, the Full Grind 100K 3/4 Grind 72K Half Grind 50K.  All races will begin in Castell following remote gravel roads through the rolling Texas Hill Country in the middle of nowhere.   You can expect amazing views, wildlife, cattle guards, minimal traffic, adventure and a gravel challenge worthy of bragging rights.  The Full Grind will follow a figure 8 course intersecting through the center of Castell at the half way point.  This will be a mandatory check point for all racers continuing on the 100K course.  Racers may also use this as a refueling and support stop if they choose to.  The Half Grind racers will complete the same sourth loop course as the Full Grind racers and finish their race in Castell.  The Full Grind racers will complete the nouth loop returning to Castell and the finish line.  Post race festivities will take place at the Castell General Store.
Location: The Castell General Store – 19522 W Ranch Road 152, Castell, TX
Event Website: http://www.castellgrind.com
Registration details: Online Registration via BikeReg.com
Contact Info: (512) 970-8703  or Email – castellgrind@gmail.com
Find more information about other rides on our mainpage