"Willkommen, Y'all"
Founded in 1846 by German immigrants who bought millions of gorgeous, rolling acres sight unseen, Fredericksburg, Texas has blossomed into a cultural destination best known for wine, art, shopping, and German cuisine. It maintains a definite quaintness with less than 12,000 residents but offers up an extraordinary spread of restaurants, galleries, spas, shops, wineries, and museums with a distinctly German flavor. Nestled deep in the heart of Texas's Hill Country, this hamlet just might be a perfect home base for your next cycling adventure—with over 300 bed-and-breakfasts and plenty to do, you'll definitely want to stay the weekend!
Options for extracurricular activities abound, especially this time of year. Fredericksburg's German heritage is on full display in winter with an ice skating rink and artisan market. Year-round attractions are also plentiful and run the gamut from outdoorsy (bird and butterfly watching, golfing, hiking and camping in nearby state parks), to indulgent (carriage rides, spa experiences, excellent wining and dining), to educational (museums, unique architecture, German culture). And time it right in the spring, and you'll be rewarded with spectacular Texas wildflowers.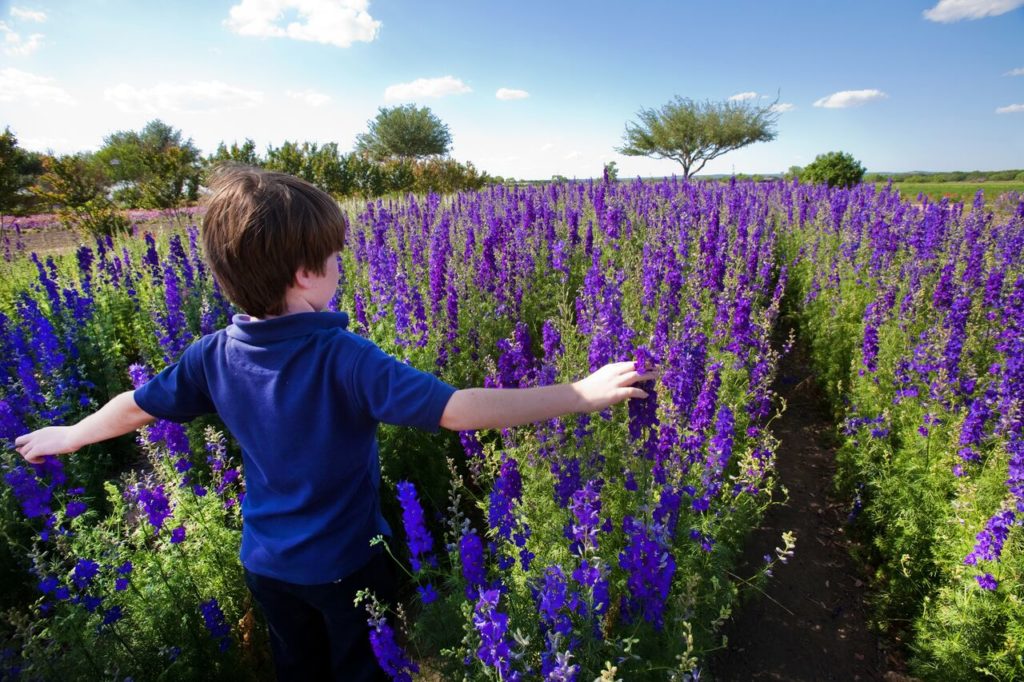 This part of the Lone Star State is dotted with award-winning wineries—a great opportunity to sample a variety of local vintages, particularly for a little relaxation after the holidays. Three venues located right in town are Grape Creek Vineyards on Main, Fredericksburg Winery, and Pontotoc Vineyard Weingarten, but you'll find a multitude of others in the surrounding hills.
Any type of sustenance you're craving can be found in an assortment of local eateries; for example, the Auslander Restaurant and Biergarten offers authentic German fare and a large array of Texas beers, while the Farm Haus Bistro at the Fredericksburg Herb Farm serves up a fresh, seasonal menu in their gorgeous gardens or inside the beautiful dining rooms. And if you're craving barbecue, this proud Texas burg has five options, including Hoegemeyer's BBQ Barn and Cranky Frank's.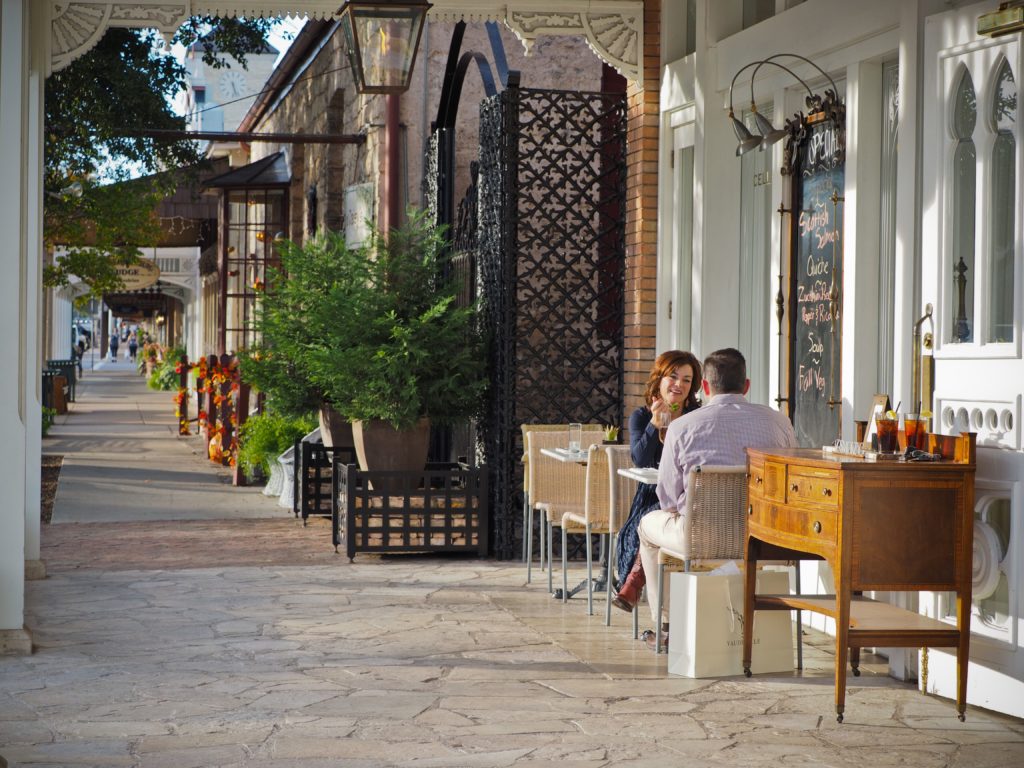 Other unique opportunities include volksmarching, an organized, noncompetitive walk through town and countryside, a tradition that originated in Germany. Fredericksburg hosts a local walking club that has three established routes in town. You'll also find a replica of an original nineteenth-century German church that stood here, the Vereins Kirche. But before you explore by foot, here are some of our cycling favorite local two-wheeled adventures.
Five Fredericksburg Faves
1. Espresso is a 24-mile lollipop that includes the popular Old Mason Road as a long stretch of the out-and-back. This ride climbs 1,100 feet overall, but the grades are mild and the Promised Land Loop at the midpoint offers a fun, twisty intermission. Keep in mind that there are no refueling options outside of Fredericksburg on this course.
2. Bike Camp is a local favorite and the perfect training ride: it has an ideal profile for intervals, clear meet-up points for group rides, and an exhilarating climb to the finish. It extends the Espresso route and tacks on some challenging terrain, including Mt. Crabapple at the 25-mile mark. This loop offers some spectacular scenery, rewarding you generously after the gypsum mine and Mt. Crabapple climbs and highlighted by gorgeous views of the Pedernales River Valley. This ride also has no refueling options outside of Fredericksburg, so come prepared.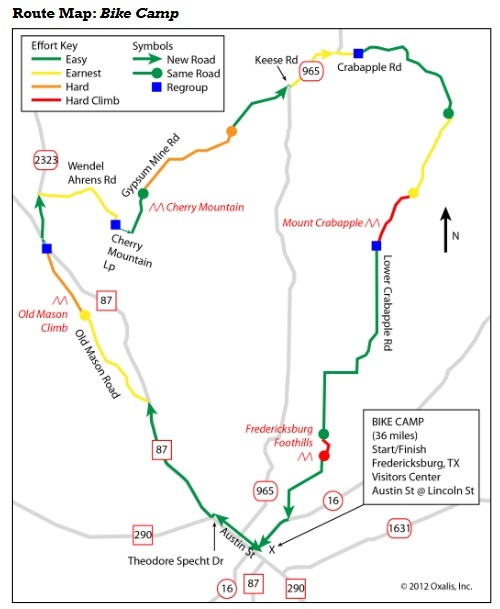 3. The 55-mile Willow City Loop makes a strong case for the perfect Hill Country ride, a hilly circuit that offers a stunning array of wildflowers, limestone formations, creeks, and vistas. In mid- to late Spring the Texas bluebonnets and Indian paintbrushes will be out, and fuschia and yellow cactus bloom if you time it right. The loop takes you up five notable climbs, including the Willow City Ledge, a quad-busting incline that hits aggressively at first, then allows a reprieve before taking a few more punches as you approach Willow City. If you're lucky, you'll spot some wildlife from the route: tortoise, turkey, and fox are common, along with numerous cattle herds. On the outskirts of Willow City, be on the lookout for a unique fence line displaying some special Texas charm. This quaint town (population: 75) is home to "Harry's on the Loop," a favorite stop for post-ride barbecue. Take heed: during wildflower season this route is popular with motorists who are often pulled over, making for some treacherous passes on the shoulder-less road.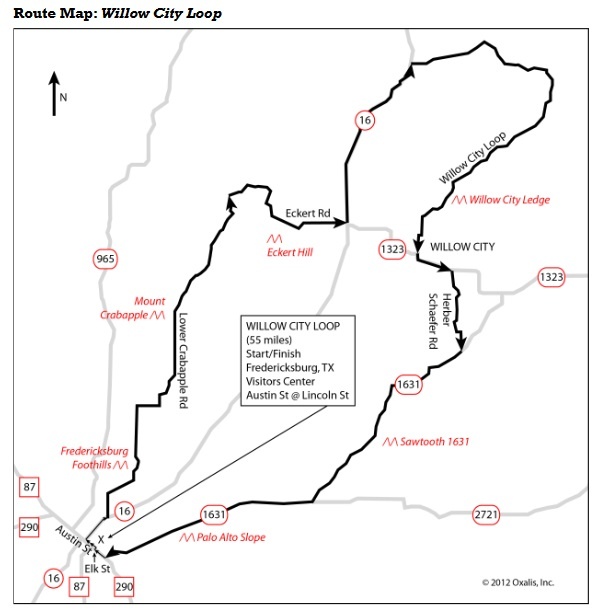 4. Another big outing is Fredericksburg-Kerrville-Fredericksburg, a 73-mile loop from Fredericksburg to the big city of Kerrville that includes some remote scenery, lovely county roads, and the infamous Guadernales Ledge. You'll appreciate little cycling traffic early in the ride as you head southwest on small county routes toward the first climb—a moderate, enjoyable challenge on Zenner-Ahrens Road. Be sure to remain alert as you enjoy the steep descent, as it ends abruptly at a highly-trafficked T-intersection in Kerrville. The riding in town is a mellow and pleasant traverse along Town Creek and through a few lovely neighborhoods—a remarkably pleasant urban riding experience. The Tower Peak climb gets you back into the groove before you cross under I-10 and mentally prepare for the ten-mile HC incline up Guadernales Ledge. The welcome descent into the Pedernales River Basin leads you back toward Fredericksburg.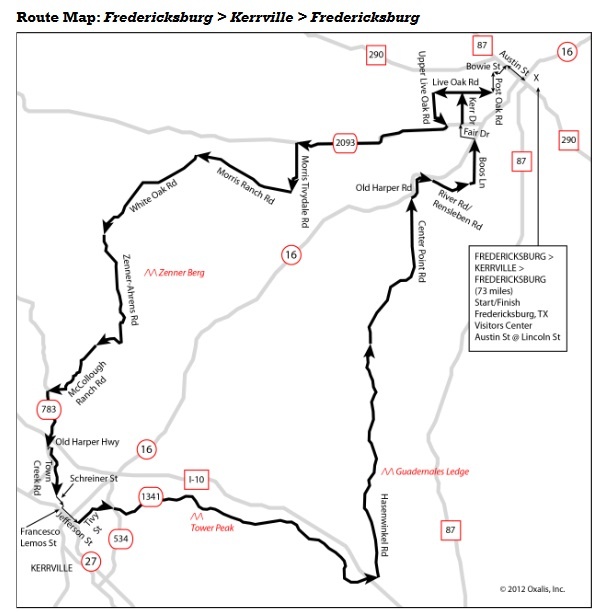 5. One of the longest routes in the area is the FGB 103, which starts in Fredericksburg and winds 103 miles through the Hill Country, dipping into four towns along the loop: Luckenbach, Sistervale, Waring, and Comfort. The other communities present minimal refueling options, but Comfort offers plentiful resources before a long home stretch just shy of 27 miles. You'll pass by the Old Tunnel Bat Cave around mile 39 (show up at dusk to watch their dramatic emergence) and encounter five high-profile climbs, including the brutal Guadernales Ledge at mile 72.5.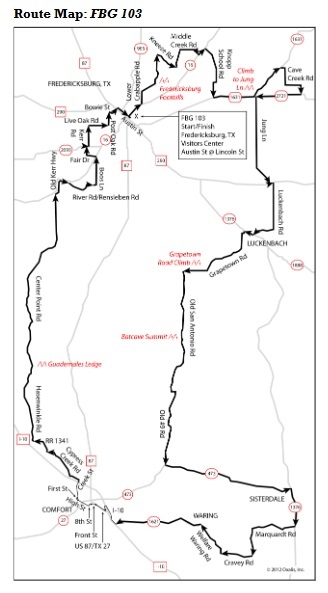 For more information about the Fredericksburg area, visit their Visitor Information Center website or call the Visitor Center at (888) 997-3600 or (830) 997-6523.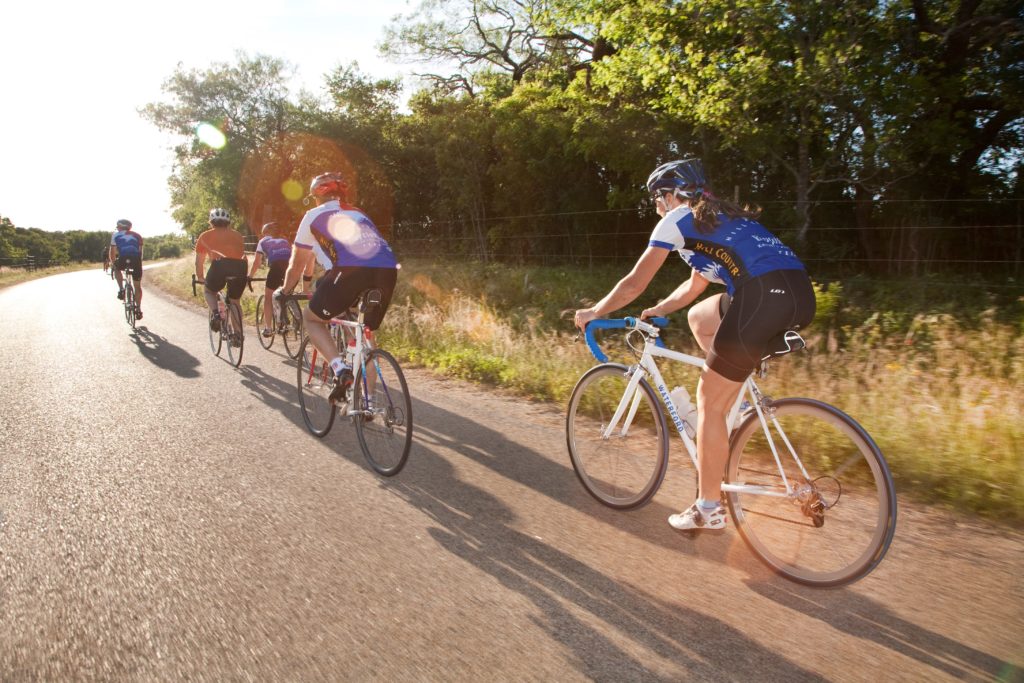 We would like to credit Gregory Kagay for the amazingly detailed ride descriptions, turn-by-turn directions, and parking information that each of the ride titles links to.