We have eight cool events happening this weekend, so if you're up to riding this week choose one of these amazing rides: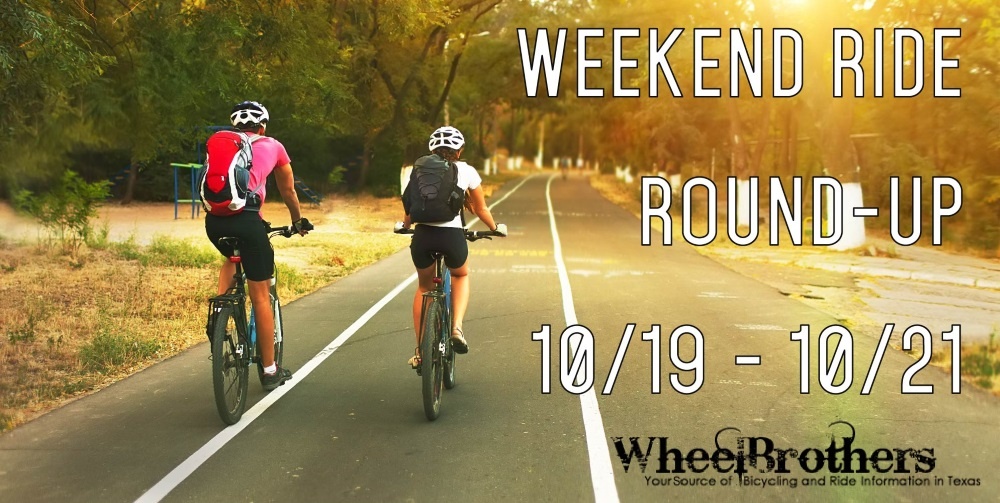 Saturday, October 27th:
St. Jude North Texas Bicycle Rally – Trophy Club, TX
Join us for the St. Jude North Texas Bicycle Rally, benefiting St. Jude Children's Research Hospital. Thisone-day biking experience will take participants through some scenic routes throughout Trophy Club, Westlake, Keller, far North Fort Worth and the Alliance Gateway area, with 20+ mile, 40+ mile and 50+ mile routes.
Officer David Ortiz Memorial Bike Ride – El Paso, TX
The parents and siblings of Officer David Ortiz, who was killed in the line of duty 3/14/16, are humbled to commemorate this event with great respect and pride. This bike ride is to honor and build the OFC David Ortiz foundation. Join us for a 15 or 50 mile bike ride to raise money to help rebuild the lives of both parents and siblings of fallen officers, through multiple means of support including scholarships, counseling, etc.
Pedal Away Alzheimer's Bike Ride – Bellville, TX
Riders of all levels are invited to participate in the second annual Pedal Away Alzheimer's bike ride presented by Ready2Roll Cycling.  This event will be on Saturday, October 27, 2018 and will start and end at the Austin County Fair and Convention grounds located in Bellville, TX.
Bike the 'Burg – Fredericksburg ,TX
Bike the 'Burg is a scenic bicycle rally taking place on October 27, 2018 in Fredericksburg, Texas. This incredible Texas Hill Country riding experience will feature several route options to accommodate all skill levels.
Dia De Los Muertos Ride – Harlingen, TX
"Dia De Los Muertos" Ride is taking place on October 27, 2018. This is our second year and we hope to make it bigger and better. All proceeds go to to support our  local graduating seniors who are involved within the Catholic community.
Houston Moonlight Ramble – Houston, TX
The BikeHouston Moonlight Ramble is Houston's oldest charity bike ride. It draws more than 2,000 cyclists, many of whom join us each year and add the latest commemorative Ramble T-shirt to their collection. This fun night-time bike ride is suitable for most ages and abilities.
Trick It Up Bike Ride – Farmersville, TX
Ride for fun, ride for the challenge, or ride for the passion of pedaling in the 8th annual Trick-It-Up Bike Ride. Join 500+ riders and see the beautiful countryside around Farmersville, Texas in 2018.
Running on Faith 5K and Cruisin' For Christ Road Race – Pittsburg, TX
Running on Faith 5K and Cruisin' For Christ Road Race, presented by Crossroads Baptist Church. This event will include a 5K race and a road race that offers 3 routes distances through the beautiful, rural countryside of Northeast Texas. This event is a fundraiser for the youth of our church to attend church camp.
That's it for this week! Have fun riding this weekend and if we're missing some rides in our calendar feel free to tell us!