We have eleven cool events happening this weekend, so if you're up to riding this week choose one of these amazing rides: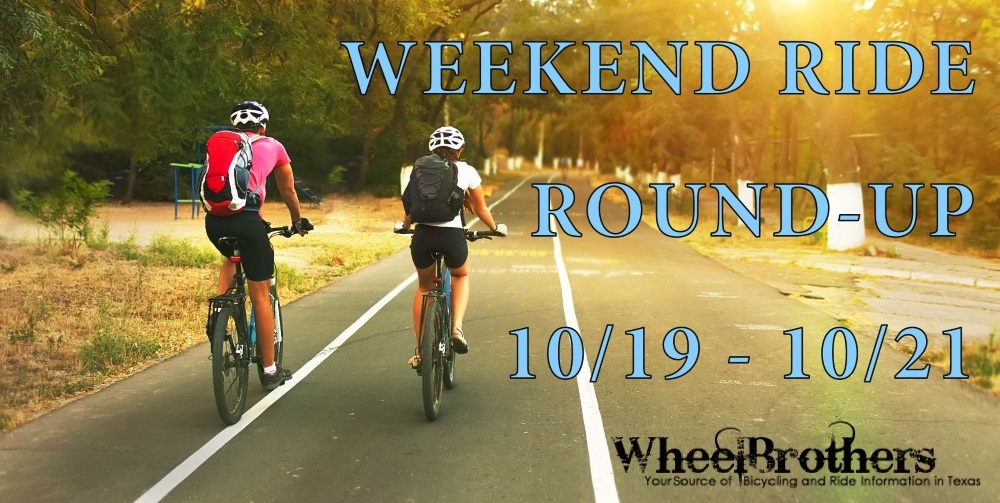 Saturday, October 20th:
Missions Tour de Goliad – Goliad, TX
The Missions Tour de Goliad offers the unique charm and challenges of the South Texas countryside. Whether you choose the 10, 30, 50, or 65 mile/Metric Century tours, you will pedal through a rich countryside filled with stately centuries-old live oak trees and gently rolling hills.
Dripping Springs Distillery Bike Ride – Dripping Springs, TX
Join Dripping Springs Distilling for our 3rd annual charity bike ride and BBQ. If you'd like to participate in our beautiful ride, which winds along the river and through the incredibly scenic Texas Hill Country, we are offering 2 distances: 25 or 50 miles.
Kiwanis Sealy Fall Classic – Sealy, TX
The 9th annual Kiwanis Sealy Fall Classic (The pedal for pie) will raise money for The Eliminate Project. This project is a joint effort of Kiwanis and UNICEF, and aims to eliminate Maternal and Neonatal Tetanus around the globe.
Tour de Groves/SETX – Groves, TX
The Tour de Groves bike ride is directed and organized by Coastal Caregivers, Inc. on behalf of Coasting Forward. Coasting Forward is a 501c3 non-profit based on helping organizations in providing assistance to senior citizens in our communities.
Mineral Wells Crazy Kicker 100 Bike Ride – Mineral Wells, TX
Let this ride be the highlight of the fall. It would be difficult to find a more beautiful ride. Route distances: 22, 37, 50, 65 and 100 miles.
DFW Tour de Cure – Parker, TX
The Tour de Cure is an event where no matter what road you take, you will be joining thousands of people from around the country who have the same passion as you to fight diabetes and its burdens. Route distances: 9.5, 24, 37 and 62 cycling routes and 5K walk or run.
Marfa 100 – Marfa, TX
The MARFA100 is a charitable 100k bike race, out and back, on scenic ranch road FM 2810 held in Marfa, Texas.  An empty road with the Chinati Mountains on the horizon, rolling grasslands, cool dry breezes, and darting roadrunners are just a sample of what makes this event truly exceptional.
Saturday, October 20th – Sunday, October 21st:
Bike Around the Bay – Baytown, TX
Join us for the twelfth annual Bike Around the Bay, a two-day 170-mile fully supported ride around Galveston Bay. This unique cycling event takes riders in a complete loop around the largest estuary in Texas (and one of the biggest in North America)!
24 Hours of Rocky Hill – Smithville, TX
A 24-hour mountain bike race that can be done solo or on a team of up to 10 people. This is a 10(+-) mile course. Teams try to log as many laps as possible, with only 1 member riding at a time. The team or solo rider with the most laps in the 24 hour time period wins.
Sunday, October 21st:
LIVESTRONG Challenge Austin – Austin, TX
Join us for the 2018 LIVESTRONG Challenge to help benefit the revolutionary LIVESTRONG Cancer Institutes of the Dell Medical School at The University of Texas at Austin! Route distances: 20, 45, 65 and 100 miles.
Texas Overland Wheel Race – Galveston, TX
The Texas Overland Wheel Race is a self-supported long distance cycling race for all types of human powered vehicles – HPV's.
That's it for this week! Have fun riding this weekend and if we're missing some rides in our calendar feel free to tell us!