Get ready to ride this weekend, as we bring you no less than eleven amazing cycling events worthy of your attention!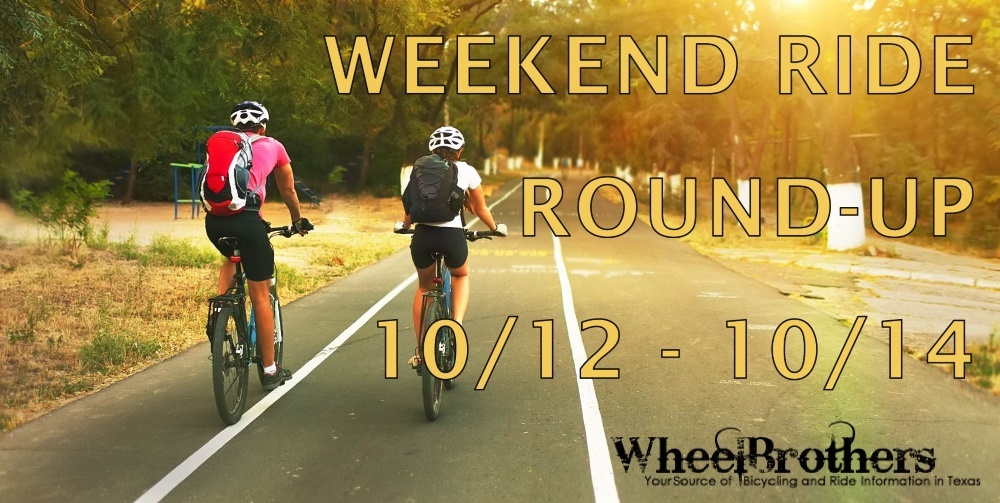 Saturday, October 13th:
No Country for Old Men – Alpine, TX
Rugged and remote are two words that unequivocally describe N C O M . NCOM is a 1000 mile, 383 mile and 208 mile ultra bicycle race held in the vast region of West Texas. It is secluded and absent of the modern world's commercialization.
Red Bull Last Stand – San Antonio, TX
Hundreds of the world's best cyclists will return to San Antonio for a race around the iconic Alamo Plaza for the third year of Red Bull Last Stand on Saturday, October 13. The criterium style race, with both fixed and geared divisions for men and women, brings out the best cyclists in the world for a challenging race filled with blazing speeds and tight turns around one of America's most famous landmarks.
Outlaw Trail Cycling Tour – Round Rock, TX
Saddle up Pardner for the 32nd Annual Outlaw Trail Cycling Tour scheduled for Saturday, October 13th starting 8am in Old Settlers Park. 10 mile, 25 mile, 40 mile, 50 mile and 63 mile loop courses will meander through historic eastern Williamson County.
Hungry 100K Bike Rally – Burleson, TX
Join us for a road bike rally over the best roads in North Texas. Riders will start in old town Burleson and head out to the rolling terrain in rural Johnson County. 100% of the proceeds will go to local charities to improve the lives of those less fortunate through Harvest House. It is a Great ride for a great Cause!
The Heroes Ride – Conroe, TX
This is a road bike ride (25, 50 & 75 mile routes) that honors our fallen 1st responders. There will be a 1st Responder race where 1st Responders will race the 25 mile route in uniform on their patrol bikes.
Tour de Honey Part Deux – Beeville, TX
Tour de Honey Part Deux" will take cyclists through the beautiful country side of Beeville Texas and Bee County. We are having this 2nd ride this year to allow us to move Tour de Honey from May to October. The routes are different from our Tour de Honey ride that was held on May 26th 2018. Route distances: 25 and 40 miles.
Tour de Fireant – Marshall, TX
5K begins at 8 a.m. Ride begins at 9:00 a.m. For the bike ride we offer 10, 30, 45 mile and 100K routes. A Trek bike will be given away. Free pizza & beer for all runners and riders after the bike ride!
Cherry Pie Hill – Outlaw Challenge – Palo Pinto, TX
Cherry Pie Hill is a 1.3 mile, 5.5% grade hill near Palo Pinto, Texas. This fun and unique challenge will pit you and your bike against the person of your choice in a 1.3 mile mono-y-mono race to the top of Cherry Pie Hill. This is an "Outlaw" (anything goes) challenge between you and whoever you decide to challenge.
All American Bicycle Rally – Springtown, TX
Join us for our 9th Annual All American Bike Rally (Saturday October 13th, 2018) through North East Parker County benefitting the Springtown Area Chamber of Commerce. We have routes ranging from 6 to 74 miles (6, 28, 54, 74) traveling as far west as Garner, Texas.
Saturday, October 13th – Sunday, October 14th:
Spirit of Survival – Lawton, OK
Bike rides will take place on October 13th, all other races on October 14th, 2018! Route distances: 26, 52, 62 miles and a 13 mile family fun bike tour.

Sunday, October 14th:
Ride For Rotary-Queen Isabella Causeway Cross – Brownsville, TX
The Rotary Club of Historic Brownsville will host it's Annual Ride for Rotary-Queen Isabella Causeway Cross Benefit Ride on October 14, 2018. The ride will end at Louies's Backyard. The ride draws participation from cyclists of all levels and ages.
We at the WheelBrothers hope you have an amazing weekend, and if you know of any rides we are missing, feel free to tell us!